The recent campaign to study and follow the late President's moral example has enhanced responsibility, humanity, solidarity, thrift, diligence, and anti-corruption in society, Truong Tan Sang, standing member of the Secretariat of the Party Central Committee, has said.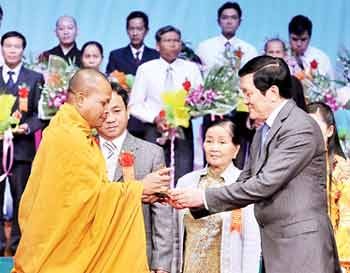 Standing member of the Secretariat of the Party Central Committee, Truong Tan Sang, presents gifts to excellent performers in the campaign (Photo: SGGP)
Addressing a gathering in Hanoi January 24 of 144 individuals and representatives from 68 organizations with outstanding performances in the campaign, Mr. Sang said the campaign received a positive response from Party members, Government officials and the people both at home and abroad.
It has helped consolidate the Party's strength and push the country's industrialization and modernization, Mr. Sang, who is also deputy head of the campaign's central steering board, said.
Self-improvement by following Ho Chi Minh's moral example has become a movement among Party members, officials, and the people, he said.

The event was also attended by General Secretary Nong Duc Manh and To Huy Rua, a Politburo member, secretary of the Party Central Committee (PCC), and head of the PCC Commission for Propaganda and Education.
Fifteen individuals and organizations reported about their performances in the campaign and action plans for the future.

They later me with officials from 10 agencies, including the Campaign's Central Steering Board, Nhan Dan (People) newspaper, the Ministry of Agriculture and Rural Development, the Vietnam People's Army, and the Ministry of Public Security.
Later that day a grand ceremony was held to honor them and it was attended by Messrs. Manh and Sang, President Nguyen Minh Triet, Prime Minister Nguyen Tan Dung, and several other high-ranking officials.
"On behalf of the Party Central Committee and the campaign's steering committee, I warmly congratulate all the honorees and value their great efforts," Mr. Manh said.

All patriotic Vietnamese have a profound love for late President Ho Chi Minh, who was venerated by UNESCO in 1987 as a National Hero and an Outstanding Man of Culture, he said.
The late President can be seen as "the best Vietnamese", whose life and career is an excellent moral example, he added.
"The campaign will foster national values related to morality and lifestyle. Those who take part in the campaign must be industrious, thrifty, honest, and righteous, and contribute to the fight against corruption, squander, and social evils. They must also be examples of public-spiritedness and selflessness," he said.
He called on the Party and the people to continue following President Ho's moral examples to build the Communist Party of Vietnam into a strong one.
He urged the campaign's steering boards in provinces and cities to review their performance to identify their strengths and overcome their weaknesses to achieve better results in future.