The Vietnam Women's Union (VWU) and the United Nations Population Fund (UNFPA) in Vietnam held a seminar highlighting the necessity of joint actions to protect girls in Hanoi on September 27.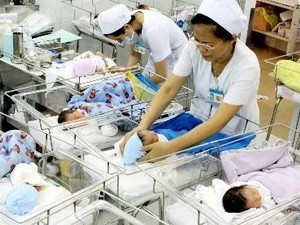 Nurses take care of infants at Tu Du hospital. Photo: VNA
Addressing the event, VWU Vice President Tran Thi Huong cited statistics of the General Office for Population and Family Planning that in 2012, only 100 girls were born for every 112.3 boys. If no change is made, 10 percent of male adults in Vietnam will not be able to find partners by 2035.
The alarming situation is the result of a backward mindset of valuing men above women, which leads to gender inequality, negative impacts on the population structure and more pressure on women while causing many other social corollaries, she said.
Meanwhile, Le Thi Phuong Thuy, advisor from the Women Development Centre, said more than 600 women that have suffered from domestic violence have come to the centre since it was established in 2007, many of whom have burdened severe physical and mental pressure for not having baby boys.
Participants at the event also discussed measures to eradicate male chauvinism in society and pointed out practical activities to protect girls so that they are treated equally.