Speaking at the meeting, Chairwoman of the Red Cross of Vietnam Dr. Nguyen Thi Xuan Thu affirmed the day (December 5) is to honor volunteers who devote their life to the community.
For the movements of the International Federation of Red Cross and Red Crescent Societies generally and the Red Cross of Vietnam particularly, volunteers are vital force.
Dr. Thu said for years, developing volunteer network in the Red Cross Society and humanity volunteer movements are important activities of the society's sub-divisions. Specially, after a long preparation, the Society's network of volunteer is scheduled to be started their work in 63 cities and provinces in January, 2019 to help promoting humanitarian voluntary activities.
The "Sac hong nhan ai" festival comprised of meaningful activities such as participants standing into a lotus flower shape, blood donation and ceremony to honor 25 typical blood donors. It is expected that 500 units of blood will be collected from the festival.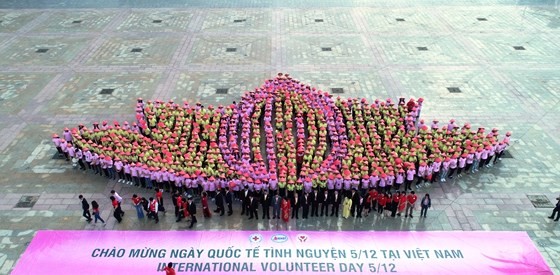 Noticeably, an award-giving ceremony of writing competition "I am a volunteer 2018" will take place in the festival. The organizer received over 100 entries from individuals and groups about good deed for the society. Hoang Niem hailing from the northern province of Tuyen Quang was given the first prize with the story "Golden heart of volunteers".
The theme of the International Volunteer Day (IVD) 2018 and Vietnam "Volunteers build Resilient Communities" recognizes volunteers worldwide – with a special focus on local community volunteers who contribute to making their communities more resilient against natural disasters, economic stresses and political shocks.