The Ministry of Health is ringing the alarm bells as the near-epidemic of acute diarrhea plaguing northern Viet Nam threatens to affect other parts of the nation as the weather warms up.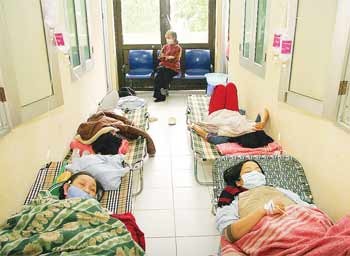 So many acute diarrhea patients are admitted into the National Institute for Tropical Disease that they must lie in the corridor
Of the 300 known cases of acute diarrhea in the north, 85 are reportedly positive for the virulent vibrio cholera virus.
Ha Noi stands at the top of the list with 44 victims, according to Dr. Nguyen Huy Nga, who heads the Ministry's Preventative Health Department.
With two more people being hospitalized on Wednesday, one from Ha Nam and one from Vinh Phuc, the number of affected provinces now stands at ten.
The National Institute for Tropical Diseases has admitted 154 northerners with acute diarrhea in the past month, some in a critical condition with a very weak pulse and alarmingly low blood pressure.
Deputy Health Minister Trinh Quan Huan says the unpredictable nature of the outbreaks means that future developments cannot be predicted with any degree of certainty.
One thing for sure, he notes, is that most of the victims had eaten raw vegetables, duck's blood curds, seafood, dog meat or shrimp paste at sidewalk restaurants.
Mr. Huan is afraid that the disease will be spread southwards by travelers.
He stresses that the agencies responsible for disease control must increase their surveillance of food preparation, especially at roadside eateries, and warns that harsh penalties are in store for any food establishment whose hygiene is not up to scratch.
In addition, he says, medical workers must keep a close eye on hospitalized patients with acute diarrhea, and the people who have been in close contact with them.
Furthermore, the areas around the affected eateries must be thoroughly disinfected, and fresh night-soil must not be emptied onto fields.
Mr. Huan adds that the health ministry will send its people to the hardest-hit provinces to help in any way they can.