Thousands of households in An Binh and An Khanh wards in Ninh Kieu District of Can Tho City are facing an acute shortage of fresh water due to an increasing demand in many of the newly developed urban areas around the city.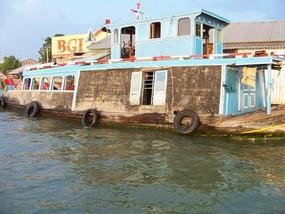 A floating home on the Can Tho River
Normal routines of residents in the city have been disrupted with water supply being cut off from 6 am to 11 pm.
Many residents of Cai Son-Hang Bang locality in An Binh Ward have had to invest in water pumps or stay up late to fill up their tanks with water. Nearly 200 households in An Binh Ward of Ninh Kieu District have had no fresh water for many years. Residents use water from wells and rivers which are quite polluted.
According to Can Tho Water Supply and Sewerage Company, Can Tho City currently requires 150,000 cubic meters of water per day, while the water supply capacity is only 126,000 cubic meters. Realistically the company supplies 114,000 cubic meters per day, running short by 36,000 cubic meters.
A representative of the company acknowledged the severe shortage of water in the city, pointing out that only 80 percent of the local population had access to safe fresh water. Those living along canal banks and ditches were using polluted water for daily living.
Estimates show that Can Tho City will be short by at least 100,000 cubic meters of water per day for the next five years if the city does not develop more water resources. Besides the city needs a basic capital of VND500 billion (US$25 million) if it wants to increase the current water supply by more than 100,000 cubic meters per day.