The Asian Development Bank (ADB) announced on Wednesday a grant of US$1.7 million for Viet Nam to help build the 2,800-megawatt O Mon gas power generation complex in the south.
O Mon's importance is underscored by Viet Nam's increasing electricity demand at a time when the country is experiencing a 40-50% decline in supply in the dry season when the hydroelectric dams are low.
"Correcting this dry season imbalance of hydropower is urgent. If left unchanged, power shortages will be serious and will hamper economic growth," ADB energy specialist Anthony Jude said in a Wednesday statement.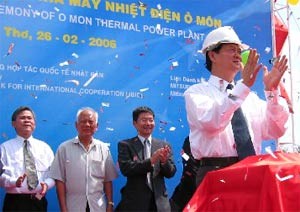 Prime Minister Nguyen Tan Dung (front) at the groundbreaking ceremony for O Mon I power plant in February 2006
O Mon is in Can Tho, the biggest city in the Mekong Delta. The plan is to build four power stations, the first of which is already under construction with financial assistance from the Japan Bank for International Cooperation. Construction of the other three will start next year.
A gas pipeline is being built to feed O Mon, whose presence should provide a strong commercial incentive for offshore gas development.
With the country's electricity demand projected to grow 16% a year at least until 2010, State utility Electricity of Vietnam (EVN) plans to increase the national supply by 15,000 megawatts in the period.
Viet Nam's draft power development master plan for the 2006-2020 period estimates a total investment of US$43.5 billion is needed. EVN is dealing with part of the funding.
On Tuesday, EVN deputy general director Dinh Quang Tri told a press conference in Ha Noi that the seventh issuance of EVN bonds in 2006 had earned VND1 trillion (around US$62.5 million).
 
In related news, US-based Citigroup announced on Tuesday it had signed a loan deal worth US$20 million with EVN to finance the corporation's plans for expanding power transmission in northern Viet Nam. That was the same day that the World Trade Organization admitted Viet Nam as its 150th member.