Vietnam will get up to US$630 million in financial support from the Asian Development Bank (ADB) to carry out further reforms of state-owned enterprises (SOEs), making them more efficient, profitable and transparent in a bid to spur economic growth and open up opportunities for the private sector.
On Monday, the ADB approved a $630 million multi-tranche financing facility for the Vietnam SOE Reform and Corporate Governance Facilitation Program.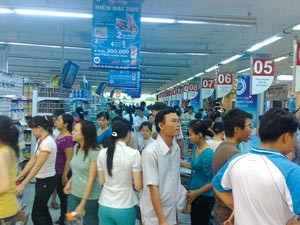 Shoppers at a supermarket in Ho Chi Minh City on a day this month. On Dec. 14, the Asian Development Bank approved US$630 million financial support for Vietnam to continue reforms of state-owned enterprises in a bid to spur economic growth. (Photo: SGGP)
"State-owned enterprise reform is critical to reducing the dominance of inefficient state production, promoting private sector development and enhancing economic growth in Vietnam," Pradeep Srivastava, senior regional cooperation specialist in ADB's Southeast Asia Department, said in a statement issued Monday.
He added, "The outcome of the restructuring will be general corporations, made up of subgroups of companies that can operate independently, secure financial resources from capital markets on their own without having to rely on the government, and which will meet all the conditions for an eventual listing."
ADB assistance will facilitate this process by making corporations that are going concerns more attractive to strategic and other outside investors by strengthening their balance sheets, rationalizing corporate structure, streamlining management processes and increasing transparency to internationally acceptable standards.
The ADB says its new program will also provide training and other assistance to government institutions involved in the SOE reform process, such as the Debt and Asset Trading Corporation.
The Ministry of Finance is the executing agency for the program, with the financing facility to be utilized from this month to December 2015.
The first tranche of US$130 million will support transformation of the Song Da group of companies, which are involved in several different business segments related to infrastructure, and Southern Waterborne Transport Corporation, which provides logistics services.
ADB says the multi-tranche financing mode is being used as it gives the bank and the Vietnamese government the necessary flexibility to adopt lessons learned in the first stage of the program and to apply them to the subsequent stages.
Under the financing facility, ADB will provide $600 million from its ordinary capital resources to strengthen the balance sheets of selected corporations through debt restructuring, with $30 million from its concessional Asian Development Fund (ADF) used to support operational and corporate governance improvements, and institutional strengthening.
ADB's funds make up almost 36% of the estimated $1.77 billion cost of SOE transformation till 2015 with the remaining balance expected to be financed from government contributions, internal resources of participating general corporations and strategic investors.