The Asian Development Bank (ADB) is targeting a significant reduction in new infections of HIV/AIDS among the youth of Viet Nam, through a project backed by a grant of US$20 million.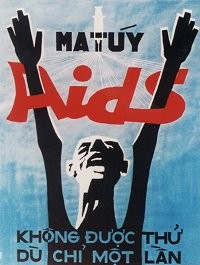 A banner supports the combat against drug abuse and AIDS in Viet Nam.
ADB announced on July 3 that the project will support Government efforts in addressing the spread of the disease through an integrated plan involving mass media and community campaigns.
According to ADB, from fewer than 4,000 reported cases in 1995 in Viet Nam, the number of HIV/AIDS cases officially reported had risen to more than 104,000 by March 2006. However the actual number could be three times this figure ADB says.
"Young men and their high risk behavior, including drug use, alcohol consumption, and unsafe sex, are a driving force of Viet Nam's epidemic," Ms. Lisa Studdert said in the ADB statement. She is an ADB health specialist based at ADB's field office in Viet Nam, who is leading the project.
"To address the problem, the project will assist the Government in conducting a focused campaign to influence behavior that will boost access and use of condoms and knowledge of HIV/AIDS among youth, and fight dangerous practices such as needle sharing among drug users."
The program campaign will be conducted through TV, radio, and print media, including production of a TV drama series over three years, and will harness the people that influence youth, including popular entertainment and sports personalities.
The project will be undertaken nationally as well as in 15 specific provinces over five years to around mid-2011. Its total cost is about US$26.7 million of which the Government is funding US$6.7 million. ADB's grant comes from its Asian Development Fund, representing three quarters of the project cost. The Viet Nam Commission for Population, Family and Children is the executing agency.
Link
ADB