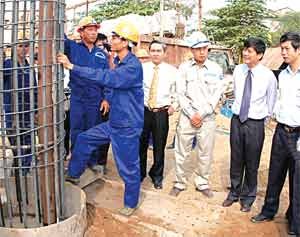 A road under construction in Viet Nam (Photo: SGGP)
The Asian Development Bank has approved a technical assistance loan of US$6 million for Viet Nam to upgrade part of a transport corridor linking the country with China.
ADB has announced that the loan would help design and plan the Hanoi-Lao Cai segment of the transport corridor connecting Kunming in China's Yunnan Province to Haiphong Port in Northern Viet Nam.
This project "would reduce travel time between Hanoi and Lao Cai from at least 10 hours at present to about three hours," ADB transport specialist Yasushi Tanaka said in this announcement.
"The faster travel time will promote economic activity in the surrounding provinces, generate jobs for the locals and improve people's access to social services," he added.
The 400-km expressway from Kunming to the border with Viet Nam is due for completion in 2008. However, the existing highway on the Viet Nam side from the border in Lao Cai to Hanoi is narrow with many low capacity bridges.
The Hanoi-Haiphong section of the highway has been improved with assistance from other international donors. Only the 260-km section from Noi Bai in the North of Hanoi to Lao Cai needs to be upgraded to complete the transport corridor.
Viet Nam's transport ministry is the executing agency for this technical assistance, which is expected to finish in March 2008.

Related Links: