The Asian Development Bank and the Netherlands Government have formalized the US$14 million Dutch financial support to the Greater Mekong Subregion Core Environment Program (CEP).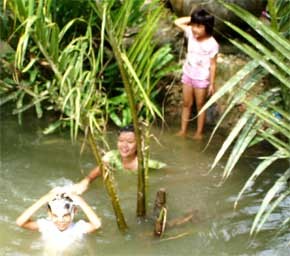 Children take a bath in a canal in Tien Giang, a Mekong Delta province of Viet Nam. The grant will help protect the environment. (Photo: Tuong Thuy)
The ADB's Viet Nam Resident Mission and the Netherlands Embassy in Ha Noi held a ceremony for this event on May 31 in the capital. Present at the ceremony were Netherlands Ambassador to Viet Nam Andre Haspels, Arjun Thapan, Deputy Director General of the ADB's Southeast Asia Department, and ADB Vietnam Director Ayumi Konishi.
All parties called on the Mekong countries and partners in the development community to join in the effort to safeguard livelihoods and economic development by halting and reversing the accelerating pace of biodiversity loss and environmental degradation in the subregion.
"We are well aware of the stress that accelerated economic development, which is evident in the GMS countries such as Viet Nam, can put on our natural environment," Arjun Thapan said in an ADB statement.
The CEP's biodiversity corridors initiative addresses the urgent issue of fragmented landscapes arising from economic development, and the impact this fragmentation has had on biodiversity and associated environmental benefits in the subregion.
For further information about the Greater Mekong Subregion's Core Environment Program, visit www.adb.org/projects/core-environment-program.

Links
ADB
Netherlands Embassy in Viet Nam