Vietnam has reaped worthy experiences in the fight against poverty that other countries can learn from, said a senior official from the Asian Development Bank (ADB).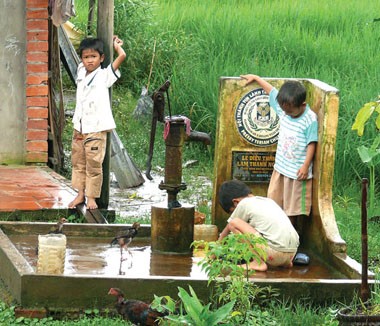 Children take fresh water at a water pump. a southern province. Fresh water for the poor is one of the government's compaigns to fight against poverty
ADB Vice President Lawrence Green Wood made the remark at his meeting with Deputy Prime Minister and Foreign Minister Pham Gia Khiem in Hanoi on August 19.
Wood is here for the Greater Mekong Sub-region (GMS) Ministerial Conference.
Describing Vietnam 's socio-economic development successes as very impressive, the ADB official also expressed his delight that the ADB has contributed its part to these successes.
The ADB executive said his institution wants to boost cooperation with Vietnam in projects covering power generation and transmission and construction of subways in the capital city of Hanoi and the country's economic hub of Ho Chi Minh City .
He noted that ADB is always a partner to ASEAN during the latter's development and integration process and supports the group's plan of shaping up the ASEAN Community by 2015.
Calling for Vietnam 's contribution to the infrastructure construction fund for ASEAN, the ADB thanked Vietnam for early preparations for the ADB's annual meeting in the country in 2011.
For his part, Deputy PM Khiem said he was pleased with the close and effective cooperation between Vietnam and the regional financial institution.
He took the opportunity to thank the institution for assisting Vietnam practically and efficiently in poverty reduction, infrastructure construction and policy-making projects.
"That valuable assistance has contributed productively to Vietnam 's socio-economic development," Deputy PM Khiem stressed.
He briefed his guest on the country's efforts to reform administrative procedures and raise the efficiency of the use of ADB's loans.
Vietnam is proud of what it has achieved in the fight against poverty and ensuring social welfare for its people and is willing to share experiences in the fields with other countries, Khiem told the ADB official.
He said he believed that with experiences drawn from the organisation of numerous international events, Vietnam will work to make ADB's annual meeting in 2011 successfu