The Asian Development Bank (ADB) said it approved a US$100 million loan to Vietnam on Thursday to support policy reforms aimed at fostering economic growth and reducing poverty.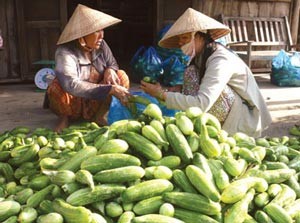 Rural people, as seen in the picture, are reported to be poorer than those in towns. More of Vietnam's poverty reduction efforts have been made for rural and remote areas.
The ADB said the credit would support policy reforms in the areas of business development, social inclusion, natural resource management, and governance.
It is a parallel loan to the World Bank's Poverty Reduction Support Credit (PRSC) 8 and the ADB's sixth loan to Vietnam within the framework of the PRSC process.
The World Bank coordinates PRSC activities for participating development agencies.
Vietnam's poverty levels have declined drastically in the past 20 years as a result of the country's rapid economic growth and improved social protection programs. However, the number of poor people is still quite large and the incidence of poverty is relatively high in rural areas, according to the bank.
The global economic crisis has threatened to undo some of the progress in poverty reduction that the country has made in recent years, the ADB's Thursday statement wrote.
"To overcome the adverse impact of the crisis and meet the remaining challenges of poverty reduction, Vietnam needs to press ahead with policy reforms that foster socially inclusive and environmentally sustainable economic growth," Bahodir Ganiev, country economist for the ADB's Vietnam Resident Mission, said in the announcement.
"The ADB loan is intended to support such reforms," Ganiev added.
The loan has a 24-year tenor, with a grace period of 8 years carrying an interest charge of 1%, rising to 1.5% over the balance of the term. The State Bank of Vietnam is the executing agency for the overall program with the loan to be fully utilized by the end of May 2010.