The Asian Development Bank approved Friday a loan of US$45 million for a rural water supply and sanitation project that will benefit six central provinces in Vietnam.
Project work will be carried out in poor rural areas in the provinces of Binh Dinh, Ha Tinh, Nghe An, Quang Binh, Quang Nam and Thanh Hoa. About 350,000 people will benefit from the project, according to the ADB.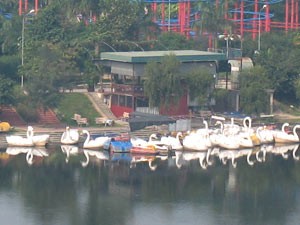 A lake in the center of Vinh City in Nghe An, one of the six provinces that will benefit from the ADB-supported water supply project (Photo: Tuong Vy)
The bank said the loan would be used to fund the construction of piped water supply systems, to build or rehabilitate hygienic toilets in homes, schools, and health centers, and for hygiene awareness activities.
"Better access to clean water and hygienic sanitation will improve public health, reduce poverty by cutting medical expenses and lost work days, and reduce the burden on women who are typically tasked to collect water and care for sick family members," Paul van Klaveren, water supply and sanitation specialist in ADB's Southeast Asia Department, said in a Dec. 18 statement.
In the project, grants and credit will be provided directly to households to build latrines. Credit will go to households not designated as poor through a revolving fund managed by the Vietnam Women's Union, the bank said.
To improve hygiene awareness, water and sanitation commune committees will be formed to support information and education activities, with at least 40% of the members, to be women, also according to the ADB.
The project will ensure service connections are provided at minimum cost allowing all households to benefit. By 2016, 90% of the population in the project communities will be connected to a water supply system, while 65,000 households will have access to hygienic toilets, according to the ADB.
The Government of Vietnam and project beneficiaries will make up the balance of the cost with in-kind and cash contributions totaling US$5 million.
The Ministry of Agriculture and Rural Development is the executing agency for the project, which is due for completion around the end of 2016.