The Asian Development Bank (ADB) signed on Thursday three credit agreements worth US$110 million with Viet Nam to help reduce poverty, develop forestry and overcome consequences caused by natural disasters in the nation last year.
Mr. Ayumi Konishi, the ADB's Country Director for Viet Nam, inked the three deals with State Bank of Viet Nam Governor Le Duc Thuy in Ha Noi.
One of the agreements is for a US $15 million loan to continue supporting the nation's efforts to reduce poverty. The loan, with a 24-year term, will be disbursed only one time in February next year.
Another deal is for a US$45 million loan the bank announced on December 1 to help address the problems of forest loss and degradation as well as rural poverty in the Central Highlands. It carries a 32-year term.
The project will support sustainable forest management in the provinces of Dak Lak, Dak Nong, Gia Lai, Kon Tum, Lam Dong and Phu Yen, covering more than three million hectares of forestland.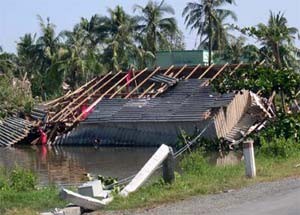 Many houses damaged (as the one seen in the picture) by Typhoon Durian, which hit southern Viet Nam on December 5
The third agreement is for a US $51 million loan to help recover infrastructural facilities harmed by natural disasters last year.

The 50-year loan will be carried out over three years until 2009 in 10 provinces: Ha Giang, Yen Bai, Phu Tho, Nam Dinh, Thanh Hoa, Nghe An, Ha Tinh, Quang Binh, Quang Tri and Phu Yen.
Also on Thursday, from its headquarters in the Philippines capital of Manila, the ADB announced a US $1.5 million grant from the bank's Japan Fund for Poverty Reduction for Viet Nam to help expand learning opportunities for the youth of ethnic minorites in the nation.
These groups remain disadvantaged in terms of education, particularly secondary education. Aside from a low enrolment rate of 19.3% as of 2002, repetition and dropout rates are considerably higher than Kinh students, the nation's majority group, according to the bank.
Eighteen small ethnic minority groups whose total population is less than 15,000 in the Central Highlands and northern mountainous region will be targeted.
The Ministry of Education and Training is the executing agency for the project, which will be carried out over four years.