The Asian Development Bank (ADB) announced Mar. 23 a US$95 million loan that will be used to improve the safety, quality and quantity of Vietnam's commercial food crops, and provide alternative and clean energy supply to households through biogas development.
"The increasing integration of Vietnam's agricultural production, processing and marketing with international markets makes it critical that improvements are made in product quality and food safety if Vietnam is to maintain and increase its international market share," Mahfuzuddin Ahmed, senior agricultural economist with ADB's Southeast Asia Department, said in Monday's announcement.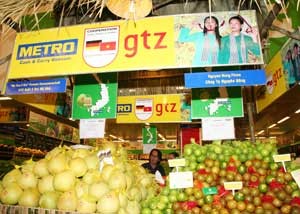 Mekong Delta fruits are on shelves at a Metro Cash & Carry store in Ho Chi Minh City. The Asian Development Bank $95 million loan will help improve food crops in Vietnam (Photo: Tuong Thuy)
According to the bank, the project will seek to improve food regulations and quality control systems to meet both domestic and export standards. New infrastructure and facilities to support safe food products will be established, and biogas plants will be built to reduce health hazards from livestock waste.
Financial support, including a credit line, will be made available to 40,000 households for the development of biogas digesters, which both reduce pollution and provide an alternative energy source, the lender said. ADB added that projects eligible for carbon credits will be developed in conjunction with the biogas units, helping to generate revenue for the Government.
Also according to the bank, the project is expected to directly benefit around 6.5 million farmers in 16 provinces and generate about 1.4 million jobs in post-production work. As a result, poverty incidence in the project areas is expected to fall from 19% to 10% over the period of 2016 to 2020.
The lender said the total project cost of US$110.4 million includes $6.22 million from the central government; $6.5 million from the people's committees in the 16 provinces; $1.35 million from partner financial institutions and another $1.35 million equivalent from the beneficiaries of the biogas plants.
The ADB loan has a 32-year maturity with a grace period of 8 years carrying an interest rate of 1% per annum, which rises to 1.5% for the balance of the term. The executing agency is the Ministry of Agriculture and Rural Development and the estimated completion time is June 2015.
ADB is also providing a technical assistance grant of $1.5 million to provide startup support for the project management and to design a strategy to expand the national biogas program. The central government is contributing $300,000 to the technical assistance.