Tran Manh Dung, chairman of the People's Committee in the central province of Khanh Hoa on October 2 confirmed that most of the agarwood hunters had left Khanh Son Jungle empty-handed after days of futile search for precious wood.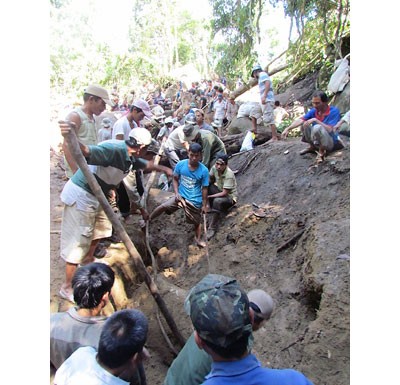 Agarwood hunters chop down an old tree to find the million-dollar resinous heartwood (Photo: Tien Phong Newspaper)
At present only about 100 people were still hanging around in the jungle in the hope of finding the highly valuable resinous heartwood.
Sai Gon Giai Phong Newspaper had reported over the past two weeks that thousands of people had converged onto the Khanh Son Jungle in the central province of Khanh Hoa, from all parts of the country, in search of the rare and highly valuable ky nam, tram huong and agarwood.
This frenzied search followed rumors that some hunters had collected a large amount of this precious wood, said to be worth more than VND55 billion (US$2.64 million).
This rumor prompted thousands to converge into the jungle. Most of these people were extremely poor, coming from the central provinces of Quang Na, Khanh Hoa, Ninh Thuan and the highland province of Gia Lai.
However, most of them have now returned to their homes disappointed and empty-handed after a futile search for days.
To bring order to this chaos, Khanh Son District authorities had to mobilize a police force to camp in the area and prevent people from entering the jungle.  Until now, no one could find the million-dollar wood except a few who were lucky to find very small pieces of ky nam.
Agarwood has three varieties, namely, ky nam, tram huong and agarwood, and is a dark resinous heartwood that forms on do bau (Aquilaria) trees when they become infected with a type of mold.
Ky nam is 10 to 20 times more expensive than tram huong.