Heads of organizations and agencies will be held accountable and subject to stringent punishment if corruption is discovered at their agencies, Prime Minister Nguyen Tan Dung, head of the Central Steering Board for Anti-corruption, has said.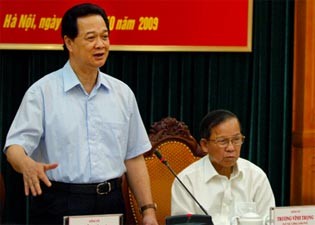 Heads of agencies at which corrupt practices are discovered would be punished, Prime Minister Nguyen Tan Dung told the meeting of the Central Steering Board for Anti-Corruption in Hanoi on October 13. (Photo: Chinhphu.vn)  
Speaking at a meeting in Hanoi October 13 to review the anti-corruption performance and set forth tasks for the rest of the year, he said tax, public spending, investment, and land administration are among the fields tainted by corruption.
To bolster the fight against corruption, ministries and agencies must strengthen anti-corruption regulations and make them more transparent, he said.
Anti-corruption agencies in provinces and cities must quickly investigate all complaints of corruption.
In the last nine months the Government Inspectorate wrapped up 12 investigations, uncovering corruption to the extent of over VND11.16 trillion (US$620 million).
They have recovered around VND1.18 trillion, including $150,000 in dollars.
  
Local agencies carried out over 9,000 inspections and found around 1,800 individuals involved in wrongdoings to the extent of VND9.3 trillion.