An international workshop was held in Ha Noi yesterday to share research on Agent Orange (AO) consequences and discuss measures to help Vietnamese AO/dioxin victims.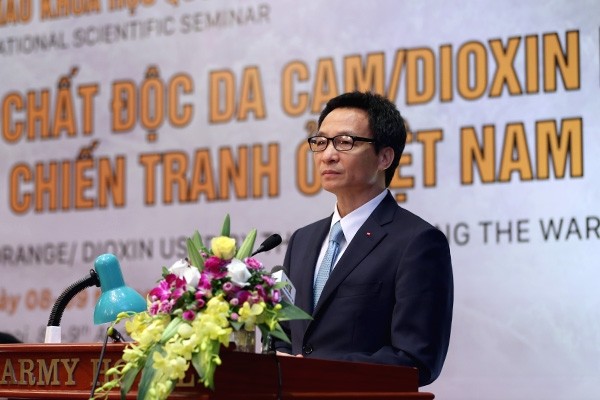 Deputy Prime Minister Vũ Đức Đam attends an international workshop was held in Hà Nội yesterday to share research on Agent Orange (AO) consequences and discuss measures to help Vietnamese AO/dioxin victims. — Photo chinhphu.vn
The event saw the participation of Deputy Prime Minister Vu Duc Dam, former Japanese Prime Minister Yuki Hatoyama, representatives from foreign embassies in Việt Nam, Vietnamese agencies, and domestic and international scientists and social activists.
Addressing the function, Deputy Prime Minister Đam said that the Vietnamese State, Government and people wish that all war victims, especially AO/dioxin victims, receive sufficient support.
Việt Nam had conducted activities to assist victims while calling on the international community, countries, organisations and individuals at home and abroad to join efforts in overcoming the consequences of the toxic chemical sprayed by the US during the war, he said. 
He hailed the Việt Nam Association of Victims of AO/Dioxin's (VAVA) for holding the workshop on the occasion of 55 years of the AO catastrophe in Việt Nam (August 10,1961-2016), while thanking scientists and social activists for demanding justice for Vietnamese AO victims.
The Deputy PM described the workshop as an activity that calls for solidarity and for the prevention of the use of chemical weapons and other weapons of mass destruction. 
The participants proposed countermeasures and called for more material and spiritual support for AO victims, as well as public backing for their fight for justice. 
They said that a lot is still to be done to deal with the consequences of AO/dioxin in Việt Nam, stressing the need to use suitable technologies to decontaminate areas with high dioxin concentrations and minimise the number of people still being exposed to dioxin.
The most important task was to complete policies on caring for and supporting AO victims, they said, adding that all tasks required great endeavours by Việt Nam and the international community. 
From 1961–1971, US troops sprayed more than 80 million litres of herbicides, 44 million litres of which were AO, containing nearly 370 kilograms of dioxin, over southern Việt Nam, according to the VAVA.
As a result, about 4.8 million Vietnamese were exposed to the toxic chemical, about 3 million of them became AO victims. While tens of thousands of people died, millions of their descendants are living with deformities and diseases as a direct result of the chemical's effects.