The largest chemical warfare campaign in the history of the world ended 38 years ago but its damaging effects on human health continue to this day.
3-year-old Nguyen Hoai Thuong lives in Cu Chi District with four crippled limbs.(Photo:SGGP)
During the Vietnam War, the United States army dropped a lethal dioxin called 'Agent Orange' on 3,800 Vietnamese villages.  The American troop's goal was to defoliate the land to expose the position of the Vietnamese guerrilla fighters and destroy their food supply. An estimated six pounds per person of Agent Orange was dropped over entire village areas.
Today, the third generation of Vietnamese still suffer the ghastly legacy left by the Americans. Thousands suffer from diseases caused by exposure to dioxin and more than a dozen regions around the country remain contaminated with hazardous levels of Agent Orange.
Cu Chi District is a case in point with 570 households, where more than 600 people suffer abnormalities from birth caused by contamination of Agent Orange.  
Besides the continuing aid provided by local authorities, Agent Orange victims need much more aid and support from society as a whole. Organizations, enterprises and individuals need to raise more sensitivity to the plight of Agent Orange victims.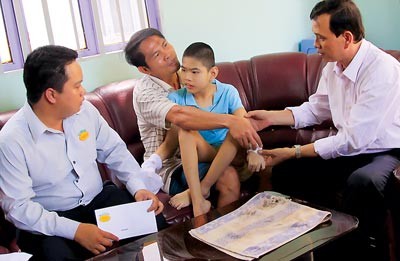 Agent Orange Association workers of Cu Chi District pay a house call on Phan Thanh Hau, an Agent Orange victim.(Photo:SGGP)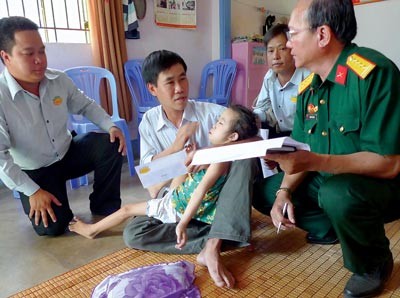 9-year-old Luong Gia Nhu was born a quadriplegic due to Agent Orange contamination.(Photo:SGGP)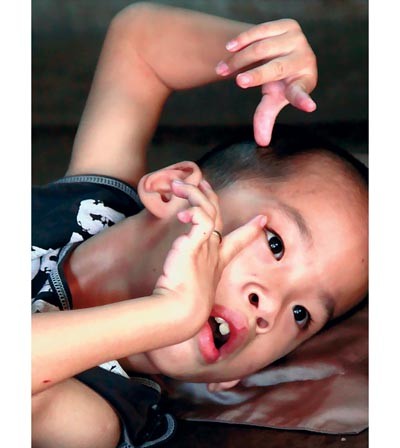 9 year old Nguyen Long An suffers from poliomyelitis.(Photo:SGGP)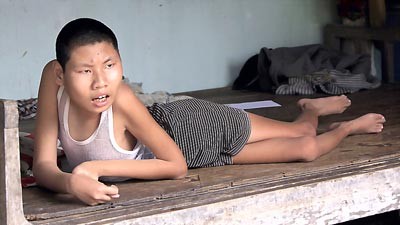 6-year-old Le Long Ho suffers from cerebral palsy and poliomyelitis.(Photo:SGGP)