In the next ten years, 10 million Vietnamese will become senior citizens, placing huge social welfare and middle-income-trap burdens on the country, a leading academic said yesterday.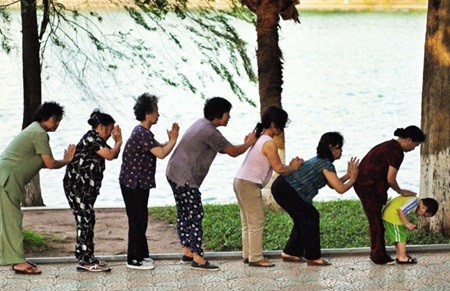 Senior citizens do morning exercises at the Hoan Kiem (Sword) Lake in Ha Noi. In the next 10 years, 10 million Vietnamese will become senior citizens. — VNS Photo Viet Thanh
Professor Nguyen Dinh Cu of the Institution for Population, Family and Children Studies told a dialogue on population policies held in HCM City that the burdens of an aging population are likely to be exacerbated by low economic growth and unsustainable development.
He proposed several solutions including increased health-protection awareness, enhancing productivity and creating jobs for the elderly.
Ritsu Nacken, Acting Representative of the United Nation Population Fund (UNFPA) in Viet Nam, said the country is in its golden stage of population growth, but has one of the fastest aging speeds among regional nations.
Thus, Viet Nam needs to design a socio-economic development plan that included appropriate population policies, she said, adding that her agency is willing to assist via technical support and exchange of international experiences in population policies.
She suggested that the Government applies flexible retirement policies and launch training programmes for senior citizens as a way to ensure their income and social welfare.
The dialogue was co-organised by the UNFPA and the VFF with the participation of domestic and foreign experts and representatives from southern provinces.
Population achievement
Viet Nam has recorded several achievements during 12 years of implementing the Population Ordinance, including a reduction in the birth rate to 17.2 (per 1,000 people) from 19.9 in 1999, said Truong Thi Mai, head of the National Assembly Committee for Social Affairs.
The country's population quality has also improved, she said at a conference held in Ha Noi early this month to discuss the role of NA deputies in building laws and policies regarding population and development.
Mai also pointed out several problems including low birth rate in some localities, increasing gender imbalance, an aging population and migration from rural areas to cities and industrial parks.
Statistics show that the country's birth rate has decreased continuously, remaining below the fertility rate since 2000, she said, adding that Viet Nam has experienced an aging population since 2011 as a result of reduction in both birth and death rates as well as an increase in longevity.
Viet Nam has also become a country with a rapid aging speed, as the ratio of elderly people reached 10.5 per cent in 2013, she said
Ritsu Nacken said it was high time that Viet Nam builds a socio-economic population strategy for the future.
The UNFPA is ready to assist Viet Nam by providing technical support and sharing international experiences on population policies, she said.
At the conference, participants discussed the latest research on emerging population problems, including birth and aging rates. The discussion's outcomes are expected to inform policy making and lawmaking by the Government and the National Assembly respectively.