Agricultural restructuring has reduced rice production costs, increased farmers' income and profit and yielded higher productivity in the Mekong Delta province of Dong Thap after two years of implementation of an agriculture plan, the province People's Committee reported to Minister of Agriculture and Rural Development Cao Duc Phat on Friday.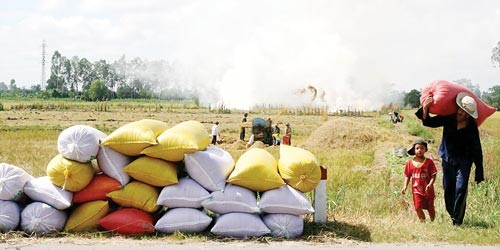 Farmers in the Mekong Delta are harvesting summer autumn rice crop (Photo: SGGP)
The province has chosen five mainstay farm produce with competitive advantages to develop including rice, ornamental flowers, pangasius fish, mango and ducks.
So far, Dong Thap has developed large-scale paddy field modal over 87,000 hectares. Production has been mechanized to reduce cost price by VND600-750 a kilogram.
Farmers profit VND22-23 million per hectare a crop from the new modal, VND4-5 million higher than that from traditional production modals.
Farming production connectivity has been sped up. Hundreds of billion of dong loans have been disbursed to Loc Anh Export Import Company to link with three agricultural cooperatives Tan Tien, Tan Cuong and Phu Binh in Tam Nong district to develop 1,730 hectares of rice under value chain form.
Besides, the province has worked with South Korean KRC Group to plan 28,000 hectares of rice farming land under large-scale and modern production modals in districts like Thanh Binh and Tam Nong.
Local authorities have also cooperated with Japan and the Netherlands to apply advanced production technologies in the province.
Secretary of Dong Thap Party Committee Le Minh Hoan said that agricultural restructuring was an urgent matter, which the province considered as its top important duty. Connectivity in production and consumption was vital to modernize production mode and reduce costs to improve competitiveness.
Recording the province's achievements, Minister Phat said Dong Thap was the pioneering province in agricultural restructuring. Other provinces can learn from experience from its successes.
However, there are many things needed to do ahead, requiring further efforts from the province to more succeed in the agricultural restructuring, he added.