Agricultural restructuring is of fundamental important for the stable development and better competitiveness of the country's main farming production zone--the Mekong Delta, Minister of Agriculture and Rural Development Cao Duc Phat has said.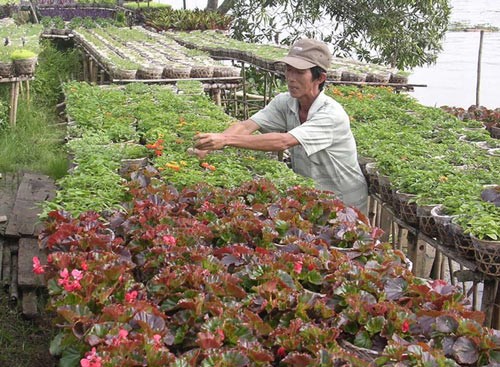 Dong Thap province is restructuring farming production of five key products (Photo: SGGP)
If agricultural restructuring is successfully implemented and production organization is rationalized, the new rural development program will be successful and farmers' life will be improved in the delta, he added.
So far, 12 provinces in the Mekong Delta have implemented agricultural restructuring projects and they have achieved significant successes.
According to the Ministry of Agriculture and Rural Development, two years after implementing the restructuring program, the 12 provinces have converted 78,375 hectares of low yield rice areas into other crops such as vegetables, watermelon, sesame, bean and dragon fruits. It has yielded 20-30 percent higher economic effectiveness compared to rice farming.
Corn cultivation has brought farming households a profit of 1.5-1.8 times higher than rice in Dong Thap and An Giang.
Many areas have successfully applied large scale production models basing on their advantages.
Minister Cao Duc Phat said that surveys in some provinces showed that production models had been changed a lot with higher mechanization ratio, increasing productivity and reducing post-harvest loss. At present, the area of rice land tilled by machines has reached 96 percent.
New effective production models comprise indoor shrimp farming in Bac Lieu and Kien Giang, pangasius fish farming under value chain in Dong Thap.
Hau Giang province has chosen ten products in its position of strength for agricultural restructuring, said deputy chairman of the province People's Committee Truong Canh Tuyen.
They have converted 3,000 hectares of ineffective sugarcane and rice crops into other plants giving higher economic effectiveness.
The province has also assisted farmers to modernize their production modes and apply technologies to lower cost price and increase profit. Initial achievements comprise 6 percent increase in agricultural production value. Some households earn an annual income of VND1-2 billion (US$46,000-92,000).
Tra Vinh province People's Committee reported a year on year increase of 6.7 percent agricultural production value last year, the highest ever thanks to agricultural restructuring.
Challenges
Despite the above achievements, many limitations should be cleared to succeed in agricultural restructuring.
Deputy Minister of Agriculture and Rural Development Tran Thanh Nam said that some provinces have built restructuring projects but faced short market information and low connectivity, making them confused in implementing the projects. The Government has encouraged expanding the large scale paddy field model, but it has developed very slowly accounting for only 3.3 percent of total production area.
Production under VietGap and GlobalGap quality standards has met with difficulties because of high expenditures. Cooperatives' operation is still weak affecting connectivity models.
Mr. Nam said that provinces should change from small scale into large scale production, apply advanced technologies and produce in accordance with consumption demand in the market.
 
Local authorities should speed up restructuring production, purchase, processing, preservation, and consumption systems and build connectivity chains in planting, breeding and seafood farming, he added.
Mr. Nguyen Thanh Hung, deputy chairman of Dong Thap province People's Committee, said that large scale production model had been determined as a right direction of agricultural restructuring.
However, land area allocation limit to a household has been a barrier for this. Therefore, there should have a pilot tax exemption on the limit exceedance to some farms so that they can expand production scales, he proposed.
Mr. Lam Van Man, deputy chairman of Soc Trang province People's Committee, said that weak infrastructures serving agricultural production and seafood farming has caused environment and water pollution killing shrimps across wide areas.
Electricity source has also failed to meet industrial shrimp farming models.
The province has hence proposed the central government to give assistances in the infrastructure system's development to speed up agricultural restructuring towards sustainable development.
Mr. Tran Minh Chien, deputy head of the Southwestern Region Steering Board, proposed to clearly assign responsibilities between central and local authorities to solve difficulties in agricultural restructuring.
Central Government would care about policies and mechanisms while local authorities should well do planning, he said.