Climate change has caused an increase in the number and intensity of natural disasters in Vietnam, the deputy Minister of Agriculture and Rural Development, Dao Xuan Hoc, said August 26.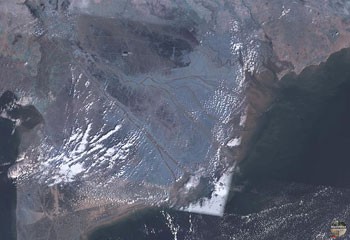 Mekong Delta is seen from a satellite. The delta will be flooded because of sea level rises resulting from climate change.
He was speaking at a seminar held by the ministry to discuss affects of climate change on agriculture and rural development, and solutions to cope with the problem.
Mr Hoc warned that up to half of four million hectares of agricultural land in Vietnam will be flooded due to sea level rises. Tens of millions of people will loss their houses and farming land.
The most worrying problem is that sea level rises will halt farm production, he added.
If sea levels rise by 0.2 to 0.6 meters, 100,000 to 200,000 hectares of Vietnam's plain will be submerged. A one meter rise will result in 0.3 to 0.5 million hectares of the Red River Delta being under water and 90 percent of the Mekong Delta will be flooded.
Mekong Delta provinces which will be seriously flooded if sea levels rise by one meter are: Ben Tre with 50.1 percent of area flooded; Long An with 49.4 percent; Tra Vinh 45.7 percent; Soc Trang 43.7 percent; HCMC 43 percent; Vinh Long 39.7 percent; Bac Lieu 38.9 percent; Tien Giang 32.7 percent; Kien Giang 28.2 percent; and Can Tho 24.7 percent.
The Red River delta has 1.3 million hectares of farm land. Of these, 1.15 million hectares are protected by dyke systems that will be seriously threatened in the flooding season if sea levels rise.
Water levels in rivers will rise by 0.5 to one meter, equal to the height of the current dyke system.
However, many delegates at the seminar said that climate change will not be such a problem if the Government begins to draft plans to cope with it from now.
They agreed that agriculture and rural development should ensure food security by maintaining areas to grow rice at 3.8 million of hectares, ensure safety and stabilize people's lives in areas that will be seriously affected by sea level rises, build flood prevention works for large rivers like Red, Thai Binh, and Mekong Rivers and strengthen projects to grow coastal protection forests.
The ministry said that it will plan areas for agriculture, industrial tree growing and aquatic production.
The ministry has currently strengthened projects to build and upgrade the sea dyke system from the northern province of Quang Ninh to the central province of Quang Nam.
It will also submit a project proposal to the Prime Minister, with an aim to build a sea dyke system from the central province of Quang Ngai to the Mekong Delta province of Kien Giang to cope with sea level rises.
Forests will be grown in front of dykes with a width of 500 to 1,000 meters to stop waves.
Related article:
Ministry predicts climate change to flood VN's plain