One year since the Government introduced a pilot scheme for agriculture insurance in 20 provinces and cities, very few farmers have come forward to avail this scheme, partly because of complicated rules and procedures.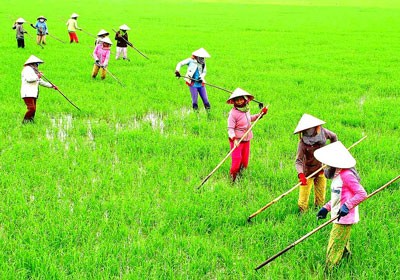 Farmers tend their rice fields in the Mekong Delta (Photo: SGGP)
From millions of farmers in the Mekong Delta, agriculture insurance has lured only about 161,000 households, 85 percent of who are very poor.
About 4,000 households have bought agriculture insurance in Bac Lieu, Soc Trang, Tra Vinh, Ben Tre and Ca Mau Provinces, of total premium of VND836.34 billion (US$40 million), but so far only 100 seafood breeders in Bac Lieu, Tra Vinh and Ben Tre have received compensation for damages, a very low figure comparatively.
Several farmers have not yet been reimbursed insurance payment due to lengthy and complicated procedures.
For instance, if tiger prawns and white-leg shrimps are infected with the white spot disease, yellow head disease and early mortality syndrome, they must be determined and verified by local authorized organs.
However, the Department of Agriculture and Rural Development in Bac Lieu Province, said that the province has not been able to perform tests to determine the above diseases.
Farmer Tran Van Tam from Dam Doi District in Ca Mau Province said that several diseases occur in their localities which do not come under the range of insurance.
Doan Ngoc Pha, deputy chairman of the Department of Agriculture and Rural Development in An Giang Province, said that agriculture insurance is rather new for farmers and local authorities alike.
Regulations guiding the implementation of the insurance are far too slow and tedious, even confusing local authorities who are not yet fully aware of related procedures, said Pha.
Doan Quoc Khoi, deputy director of the Department of Finance in Ca Mau Province, said that fear of regulations has prevented farmers from buying agriculture insurance.
For instance, insurance covers shrimp breeding under improved-extensive farming, semi-intensive farming; and intensive farming of tiger shrimps and white-leg shrimps. However, these forms of farming require large capital which most shrimp breeders do not have. Most shrimp farmers still breed using traditional extensive farming methods.
The Ministries of Finance, and Agriculture and Rural Development, have now broadened insurance to cover rice and seafood products, ducks and Basa fish and made the process to determine damages far swifter. The premium for rice has also been increased.
Phung Ngoc Khanh, deputy head of Insurance Management and Supervisory Department under the Ministry of Finance, is considering extending the deadline for the pilot implementation of agriculture insurance by six months, until June 30, 2014. This is to improve the basic mechanism and policies for agriculture insurance.
The Ministry of Finance will work with the Ministry of Agriculture and Rural Development and people's committees in provinces and cities to increase the premium rate for those living close to poverty line.