The Ministry of Agriculture and Rural Development hosted an urgent meeting June 25 to seek measures to deal with prolonged drought in the central region, which has seriously affected agricultural production and residents.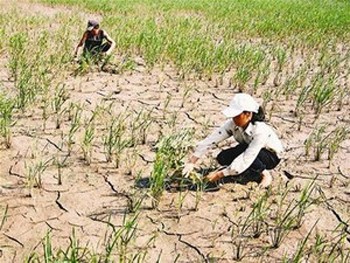 Rice fields die off drought in central Vietnam
At the meting in Hanoi, Minister Cao Duc Phat ordered provinces to save water and closely monitor the use of water sources. Residents in places that do not have water for rice should change into growing other plants like maize, peanut and soybean, he said.
Vu Van Thang, deputy head of the Irrigation Department, said that provinces should strengthen dredging river mouths and install more pumping stations.
According to Deputy Minister Bui Ba Bong, 100,000 hectares of rice in central provinces are in danger of no yielding due to a severe shortage of water.
In terms of weather, the national weather bureau said the same day that the central region would continue to suffer from severe heat in three or four more days, with temperatures forecast up to 39 Celsius degrees.

Related article:
Drought burns central crops