The Ministry of Agriculture and Rural Development on Thursday hosted a conference to review the performance of all agricultural companies in 2011, concluding that they had closed the year with a high profit margin.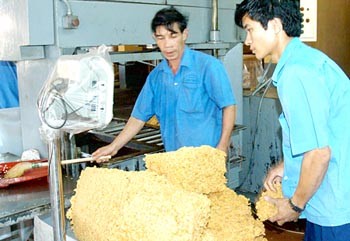 A rubber processing plant in the southern province of Dong Nai (Photo: SGGP)
Vietnam Rubber Group, Vietnam National Coffee Corporation, Vietnam Northern Food Corporation and Vietnam Southern Food Corporation showed the highest turnover collectively of VND42.19 trillion, an increase of 14.8 percent over 2010.
Their net profit after taxes was VND4.84 trillion (US$230 million).
In related news, Bui Ba Bong, Deputy Minister of Agriculture and Rural Development instructed the tea industry to implement measures to increase value-added tea products, at a conference hosted the same day on tea export development.
Mr. Bong instructed the tea industry to hike the dried tender leave production to 260,000 tons by 2015, of which 200,000 tons will be exported to yield a turnover of US$440 million.