Following a request from the Prime Minister, after reading some articles in Sai Gon Giai Phong, a meeting on July 9 was held between the Civil Aviation Administration of Vietnam (CAAV) and an author of a project to open a Hanoi-HCM City air route along the 106th meridian east.
At the meeting, Mai Trong Tuan, author of the "golden air route" project, which was planned in 1983, stuck to his opinions that the plan along the 106th meridian east will cut the flying distance between Hanoi and HCMC, and flight times by ten minutes.
Bui Van Vo, a senior CAAV official, presented arguments concerning national security, economic efficiency, flight safety and aviation security.
Lai Xuan Thanh, deputy head of CAAV, applauded the author's project, saying that CAAV also nurtured the same route.
He repeated that the current Ho Chi Minh City- Hanoi route, which means planes have to fly east to remain in Vietnam airspace, was the best route.
However, the CAAV will adjust the present air route from Hanoi to Ho Chi Minh City along 106th meridian east for international flights, essentially a direct line, to save time and fuel, as aviation authorities in Laos have recently accepted and supported the project.
Representatives from national airline operators, 20 aviation experts, antiaircraft armed service, and 20 domestic and foreign media representatives participated at the meeting in the Ho Chi Minh City International Airport Tan Son Nhat.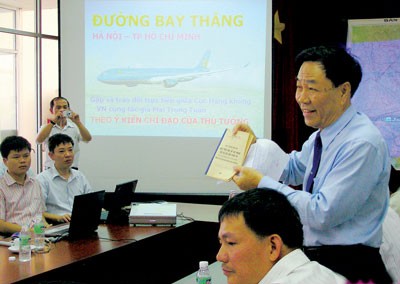 Mr. Tuan (1st, R) presents the project at the meeting with CAAV on July 9 ( Photo: SGGP)
Mai Trong Tuan, the author of the "golden air route" said; "I felt satisfied about the meeting, as my project will be carried out in the future, bringing interest to the nation. I send my thanks to SGGP newspaper, which first discussed my project and which other newspapers followed. SGGP newspaper volunteered to bring up the issue in the country's interest."

Tran Dinh Ba, a transport expert, said; "I praised the project for the new route proposed by Mai Trong Tuan and efforts of CAAV.

"We should follow President Ho Chi Minh's advice that we ought to do what benefits people and the country. CAAV should soon open the new route."

Related article:
Discussions over new Hanoi-HCM City air route