There has been an alarming rise in traffic accidents caused by drunken drivers in Ho Chi Minh City, especially along streets with many pubs and wine eateries.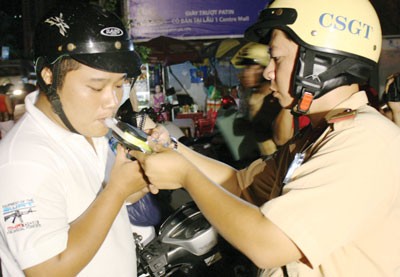 Police measuring wine level of a driver in Pham Hung Road in June 13 (Photo: SGGP)
Of late, the two kilometer Pham Hung Road in District 8 has become a hot spot for traffic accidents. Loi, a resident who lives along the road, said despite the road being wide with few vehicles, the street has more traffic accidents because of so many pubs along the road.

Recently, traffic wardens stood along the road to check wine levels of drivers, and it was alarming to learn that most of the violators admitted to having just had a drink or two with friends in a pub nearby.
Some drunken drivers did not heed police advice but chose to quarrel with them instead.

The traffic police said there is an increasing trend in the number of drunken drivers causing road accidents. In first six months of the year, the City saw 2,507 accidents that killed 371 people, of which 98 accidents that led to 14 deaths were caused by drunken drivers.

Traffic Police in the City are however determined to eliminate this evil by all means. Nguyen Huu Tin, Deputy Chairman of the City People's Committee, has ordered wardens to set up stations near pubs and issue harsh penalties on drunken drivers.
District People's Committees will also check activities in wine eateries during peak hours and not allow pubs to stay open too late.