The Korean Ministry of Labor calculates that approximately 8,700 Vietnamese laborers are illegally staying in Korea, amounting to the largest number of illegal resident overseas laborers.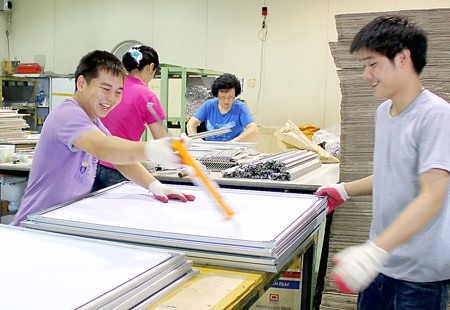 Vietnamese overseas workers work at a furniture plant in Korea (Photo: SGGP)
This figure does not include workers who decamped after filling entry formalities at Korean airports.
The ministry is considering canceling of the Korean language test, after a number of laborers illegally stayed on in the host country. Such numbers have now soared by more than 50 percent, said Nguyen Ngoc Quynh, head of the Department of Overseas Labor (DOL).
There is also now an alarming rise of Vietnamese workers staying on illegally in Malaysia, Japan and Russia.
The Vietnamese Ministry of Labor, Invalids and Social Affairs has asked DOL and relevant agencies to set up measures to curb this issue, said Dao Cong Hai, deputy head of the department.
DOL will seriously tighten procedures in recruiting labor in the agro and aqua sectors, including asking workers to pay in advance before going to a foreign country and strictly following health check guidelines.
It also proposes on heavy punishments on laborers that did not return home after their contract expired in Korea.
DOL warns it will restrict the recruitment in provinces and cities that have already sent too many workers to Korea.
Employers of illegally residing overseas workers in Korea will face a heavy punishment as well as a fine of up to US$20,000 maximum, a ban on further recruitment and even impounding of business license.
Statistics from DOL indicate that 63,000 Vietnamese workers have been sent to Korea so far. More than 14,000 laborers went to Korea in the first eight months of this year.
Vietnam sent 37,700 laborers to work abroad in the first five months of this year, mainly to Taiwan, South Korea, Malaysia and Japan.