The Algerian National People's Assembly Chairman's visit is hoped to usher in a new chapter in the ties, especially economic cooperation, between Vietnam and Algeria.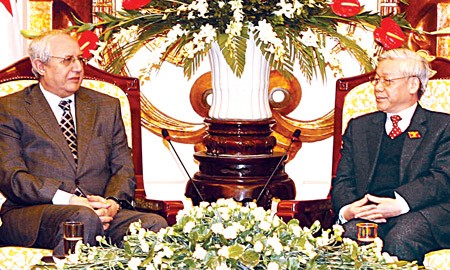 National Assembly Chairman Nguyen Phu Trong (R) talks to Algerian National People's Assembly Chairman Abdelaziz Ziari at a meeting in Hanoi on January 19. (Photo: VNA)
Algerian National People's Assembly Chairman Abdelaziz Ziari arrived in Hanoi on January 19 for an official friendly visit. He held talks with Vietnamese National Assembly Chairman Nguyen Phu Trong the same day.
"This Vietnam visit, following previous visits by leaders of the two countries, will contribute to opening a bright prospect for bilateral ties," the Algerian chairman said.
He said the Algerian Assembly, Government and people want to strengthen friendship and elevate its economic cooperation with Vietnam on a par with the two countries' political ties, tapping both's available potentials.
The Algerian official emphasized that his country is making efforts to increase its trade value with Vietnam to be equal to that of some Asian countries it has been trading with.
He showed his admiration to the Vietnamese people's immense construction and development achievements and Vietnam's growing role and position in terms of politics and economy in Southeast Asia and Asia .
"Vietnam was an example in the struggle for national liberation and is currently a pride in economic development," the Algerian guest said.
He noted that in its transitional phase to the market-driven economy Algeria sees Vietnam's renewal and WTO-related experiences valuable to follow.
He suggested the two countries consider the establishment of consultancy groups to share experiences in these fields, affirming that "Algeria is eager to learn from Vietnam's experiences based on trust and fine relations already established between the two countries."
Delivering the Algerian people's respect to the Vietnamese people's courage to defend the country, the Algerian official said the Algerian people's revolution has originated and developed on the grounds of the values the Vietnamese people had attained from wars against colonialists.
"Sacrifices and losses in struggles to defend our nations and national construction and development achievements serve as the foundation for Vietnam and Algeria to develop their friendship," he emphasized.
The two countries should share responsibilities to educate their future generations to continue preserving and promoting that valuable friendship, the Algerian official underlined.
Considering that there still exists colonialism with new forms of imposition, Algeria wishes to enhance its solidarity, friendship and cooperation with the Vietnamese people, as well as with other peoples around the world, to preserve the values of the peace-loving people's just struggles, the guest said.
NA Chairman Trong shared with his guest the need to promote education on the Vietnam-Algerian traditional ties among the two countries' young people.
Vietnam-Algerian ties have stood the test of time and have been unceasingly strengthened and promoted, he affirmed. However, Trong pointed to the fact that economic, trade and investment ties have not yet been tapped to match their potentials as well as aspirations of the two peoples.
He proposed that the two legislative bodies and governments work together to facilitate businesses' partnership.
The two countries should capitalize on each other's strengths to promote their mutual growth, with Algeria providing a gateway for Vietnamese goods to enter the African market and Vietnam helping Algerian commodities to gain a niche in the ASEAN-strong market, Trong told his guest.
He highlighted the two countries' growing cooperation in the oil and gas industry and their moves to step up collaboration in education and labor issues.
The NA Chairman agreed to enhance the sharing of experiences, including those on market economy development and legislative activities, and WTO negotiation skills with Algeria.
Trong affirmed that sticking to the foreign policy of independence, self-reliance, multilateralization and diversification, Vietnam has treasured the promotion of friendship and cooperation with its traditional friends, including Algeria.
The Vietnamese legislative leader congratulated Algeria on its socio-economic gains, its current stand as one of the four emerging economies in Africa, as well as its important role in maintaining peace in North Africa and Africa in general and in the non-aligned movement.
"The Vietnamese people have never forgotten the Algerian people's assistance given to their past struggle for national defense and current national construction and development," Trong said.
He said he hoped the Algerian guest's visit would further promote mutual understanding, and step up friendship and cooperation between the two legislative bodies.
At the talks, the two legislative leaders vowed to push up the implementation of cooperation agreements signed in 2005 and further cooperation between legislative agencies and parliamentarians.
They also reached a consensus on increasing coordination and support for each other in international forums.
The same day, the Algerian guest paid tribute to the late President Ho Chi Minh at his mausoleum and visited Van Mieu (Temple of Literature), which is Vietnam's first university.
Later, he was feted in a grand banquet hosted by NA Chairman Trong.