All the 10,334 Vietnamese workers based in Libya have been evacuated from the country on Sunday and are waiting in neighboring countries to return back to Vietnam.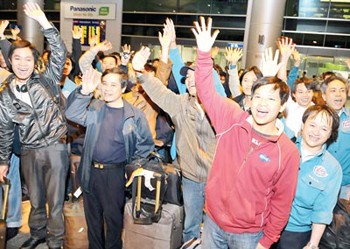 Evacuated Vietnamese workers wave hello upon their arrival at Tan Son Nhat Airport in HCMC on March 7, 2011. (Photo: SGGP)
Nguyen Xuan Tao, from the Department of Overseas Labor said yesterday that the workers were all spread out, 1,200 were in Tunisia, 650 in Turkey, 292 in Algeria, 150 in Greece and 65 in Egypt. All those in Malta have already returned home.
Over 7,200 Vietnamese had already returned back to their homeland by 10:30pm on Sunday. Most of the flights brought back about 200-336 passengers. On the same day, a vessel carrying 1,177 people was also en-route to the Hai Phong Port.
The Department of Overseas Labor, the Vietnamese Embassies and international organizations at the Libyan border and in the neighboring countries have worked towards ensuring the security of the refugees, providing food, medicine and safe transportation back to Vietnam.
The national flag carrier Vietnam Airlines has said it will dispatch another plane to Djerba in Tunisia. The flight VN8686 will take off from Noi Bai International Airport at 8am and is expected to land at 4pm the same day.
It will bring Vietnamese nationals back home by 10:25 the following day. The flight will be the 10th of its kind and also the final flight for evacuating Vietnamese nationals from Libya.
Vietnam Airlines will have brought back over 3,000 Vietnamese workers from Libya and the neighboring countries during its entire evacuation mission.