The World Bank-chaired annual Consultative Group meeting of Vietnam donors took place in Hanoi Tuesday, with US$7.386 billion in official development assistance (ODA) committed for Vietnam next year.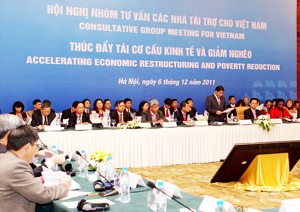 A view of the Consultative Group meeting for Vietnam in Hanoi December 6, 2011 (Photo: SGGP)
Vietnamese Minister of Planning and Investment Bui Quang Vinh announced the ODA total at the closing session.
He said the Vietnamese Government has taken in many of the proposals made by international donors seriously. Some issues have been countered promptly. For example, he said, a meeting was held for deeper discussions of and amendments to Government Decree 46 on foreign labor.
During the Consultative Group meeting, the Minister said international donors' assistance would help Vietnam accelerate economic restructuring and poverty reduction.
The meeting was also themed "Accelerating economic restructuring and poverty reduction".
He added the country would continue to use the assistance effectively.
Words from Mr. Tomoyuki Kimura, Asian Development Bank country director for Vietnam, showed that he highly agreed with the Government's economic reform plans. He stressed that many State-run companies have gone public but the Government needs to continue to pay more attention to the process.
In order to succeed in economic reforms, it is vital to set up disciplines and ensure them in the public sector, according to the ADB executive.
Australian Ambassador Allaster Cox pointed out some policies he considered not suitable such as rules on foreign labor in Vietnam, and regulations on promoting resources in the private sector.
US Ambassador David Shear showed his concerns on administrative measures used in trade administration.
He said he would like Vietnam to work out better solutions to social issues such as gender inequality, inequality among resident groups in access to education, health care and other social services.
A representative from the European Union Delegation to Vietnam presented proposals in developing the "green" economy, coping with climate change effectively, and narrowing down the inequality gap among resident groups.
Meanwhile, among issues mentioned by the United Nations were simplifying administrative procedures, countering corruption, and facilitating civil organizations in their involvements to the development process.
Speaking during the meeting, Vietnamese Prime Minister Nguyen Tan Dung said Vietnam would efficiently use the ODA funds.
He stressed that the Vietnamese Government would deploy the economic restructuring program with focus on rationalizing public investment.
He said he wished the international donors continue to support the country and people in overcoming current difficulties.

He also said the State of Vietnam, as a state of law, considers the people's freedom and democracy both a goal and a momentum for development, and every citizen must practice their rights to freedom and democracy in accordance with the law and the constitution.
The PM added he hoped for straightforward dialogues between the Government and donors, thus strengthening mutual understanding and cooperation.