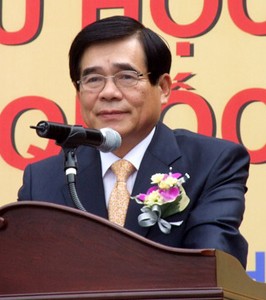 Ambassador Pham Tien Van
Ambassador Pham Tien Van to the Republic of Korea has been awarded the honourable doctorate degree in administration by the University of Dongshin, becoming the first Vietnamese ambassador to receive this honour in the RoK.
Addressing the awards ceremony on November 18, Dongshin university rector Song Mun-kap praised the Vietnamese Ambassador for his intensive research over the past 40 years in foreign administrative systems, focusing in the RoK, his analysis on the political situation in the Korean peninsula and the RoK political developments.
Statistics released by the Univesity of Dongshin showed that Van has given over 120 lectures in various fields at numerous universities, agencies, social organizations and enterprises in the RoK, contributing to mutual understanding between the two peoples and promoting bilateral relations towards more effective and practical trend.
For his part, Van expressed deep emotion in receiving the award, saying that he strongly believed in further development of relations between the two countries.