Prof. Dr. Judith Ladinsky on Wednesday received a medal for the cause of science and technology from the Ministry of Science and Technology (MOST) in Ha Noi.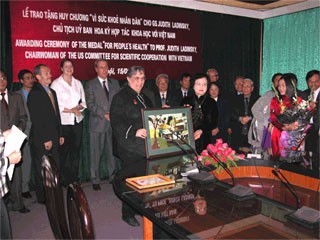 Minister of Health of Viet Nam Tran Thi Trung Chien (R, in front) presents medal to Dr. Judith Ladinsky in 2004

The ministry held a ceremony to present Prof. Dr. Judith Ladinsky, an American citizen, in recognition for nearly 30 years of work to develop science and technology cooperation between the people of Viet Nam and the United States. 

Dr. Ladinsky lifetime achievements include expanding primary health care and economic education throughout Viet Nam, administering 1,800 TOEFL exams for Vietnamese students interested in studying abroad, and medical technology transfer and training in surgery, eye care, mammograms and nanotechnology. 
She has conducted extensive research on a variety of health care topics in Viet Nam, most recently on malaria, diabetes and Japanese encephalitis.

Dr. Ladinsky has received a total of five medals from the President of Viet Nam, the Ministry of Education and Training, the Ministry of Health, the Ministry of Science and Technology and the Viet Nam Women's Union.

In 2004, Ladinsky found herself in the Ministry of Health in Ha Noi, receiving a People's Health medal and certificate from Vietnamese Minister of Health Tran Thi Trung Chien. The award, which Ladinsky received Jan. 15, is the highest honor Viet Nam can bestow upon those working in the health field.

Judith Ladinsky is an associate professor in the Department of Preventive Medicine and Director of the Office of International Health Affairs in the University of Wisconsin Medical School.  
Dr. Ladinsky is also the Chairwoman of the non-governmental organization U.S. Committee for Scientific Cooperation with Viet Nam and Laos. 

U.S. Embassy Environment, Science, Technology and Health Officer Nathan Sage attended the medal ceremony on behalf of Ambassador Michael W. Marine.  Mr. Sage noted Dr. Ladinsky's tireless efforts to help Vietnamese people.  Mr. Sage stated, "This is Prof. Ladinsky's 101st visit to Viet Nam since 1980.  Through her long-term commitment, dedication and contributions to the Vietnamese people, U.S.-Viet Nam relations have improved on both sides of the Pacific."