On the occasion of the trip to Viet Nam to visit the old battle field, Tel Engelmann, former U.S. air force warrant officer, visited and took photos of Agent Orange (AO) child victims in Hoa Binh Village of the Ob-Gyn Tu Du Hospital before paying a visit to Lai Khe.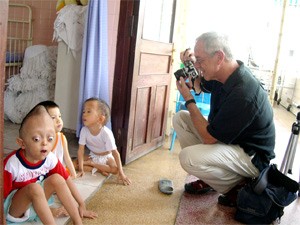 Tel Engelmann takes photos of AO child victims ( Photo:TD)
"This is my last journey to complete my photo collection", he said. " I will choose excellent photos out of 300,000 for a photo exhibition on war and a book to bring to people in the world a clear understanding of the war."
In March, 2005, Tel Engelmann heard of Vietnamese Martyr Dang Thuy Tram's diary at a seminar on Viet Nam's war held in the U.S.
Later, he met the Frederic brothers in order to help forward the CD talking about the diary to her family in Viet Nam.

Thanks to his help, the diary was returned to Viet Nam after more than 30 years in the U.S.
Related links:
Revolutionary Martyr Dang Thuy Tram Honored
Dang Thuy Tram Diaries Reconcile Viet Nam and US
- Ministry of Health Launches Movement to follow Dang Thuy Tram's Example
- Infirmary Named after Dang Thuy Tram Constructed