Secretary-General of the Vietnam-USA Society (VUS) Bui Van Nghi has met with a delegation of American veterans and their relatives who are in Vietnam.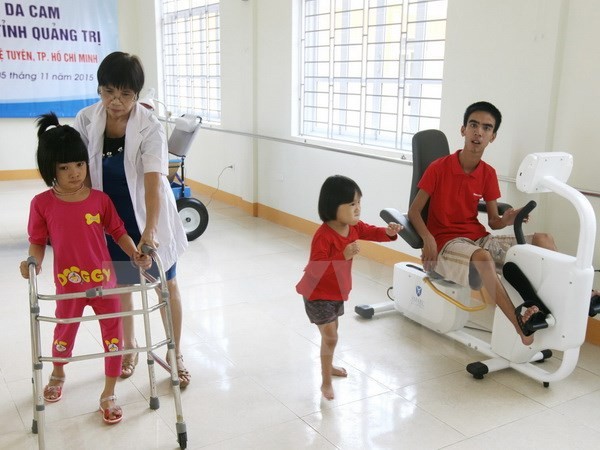 AO/dioxin victims in central Quang Tri province (Illustrative image. Source: VNA)
Speaking at the meeting in Hanoi on March 28, Nghi briefed the guests on the Vietnam Union of Friendship Organisations (VUFO) and the Vietnam-USA Society as well as their roles in enhancing the relations between the two countries' people.
The VUFO will work with American veterans to strengthen mutual understanding between the two peoples and continue efforts in healing the wounds of the war, he said.
He added Vietnam welcomes veterans and their relatives, including their children and grandchildren, to learn about the country and people, thus contributing to developing friendship and cooperation between the two countries.
On behalf of the US delegation, Paul Reed said that the visit aims to learn firsthand about Vietnam and its relations with the US as well as the aftermaths of the war in Vietnam.
During their stay in Vietnam from March 25-April 6, the American veterans plan to meet with Vietnamese veterans and Agent Orange/Dioxin victims and return wartime items to Vietnamese agencies