The Central Advisory Council on Amnesty (CACA) convened on August 22, under the chair of Deputy Prime Minister Nguyen Xuan Phuc, to examine the list of prisoners eligible for an amnesty to be granted on the National Day (September 2).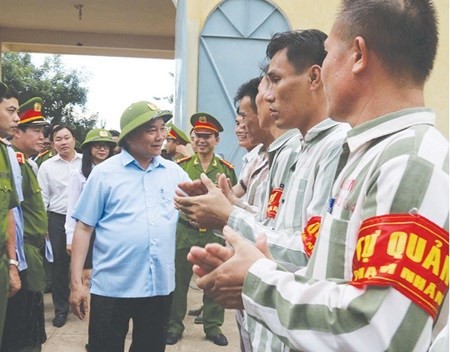 Deputy PM Nguyen Xuan Phuc ​visits Xuyen Moc Detention Centre in southern Ba Ria-Vung Tau Province (Photo: VNS/VNA)
More than 18,000 prisoners and detainees in prisons and custody centres under the management of the Ministry of Public Security and the Ministry of Defence have been deemed as meeting the conditions for amnesty this year by relevant agencies. Their dossiers have been verified by inter-sector teams with representatives from the Ministry of Public Security (MPS), the Supreme People's Court, the Supreme People's Procuracy, the Vietnam Fatherland Front Central Committee, the Ministry of Foreign Affairs and the Presidential Office.
Deputy PM Nguyen Xuan Phuc appreciated efforts made by members of the CACA and relevant agencies in the implementation of the September 2 amnesty.
The Deputy PM said, since 2009, the State has granted five amnesties, two of which were in 2009, under which 63,499 prisoners were released before the due date and 678 others were suspended from carrying out their sentences. He noted that most of the pardoned convicts have well integrated into the community with few of them repeating their offences. The rate of relapse among amnesty beneficiaries was reported at just 0.73 percent in 2013.
Deputy PM Phuc emphasized that the verification of prisoners' dossiers should be made in a transparent and thorough manner in accordance with the Amnesty Law, the President's decision and the guidelines of the CACA.
The Council also recommended ministries and localities to pay attention to helping released prisoners re-integrate into the community.
After receiving the Council's approval, the list of amnesty eligible prisoners will be submitted to the President for consideration and approval.