Authorities in An Giang Province on Monday warned of a further landslide threat of at least 400 metres to an existing 180 metre long landslide which occurred the previous day along the Hau River Bank in Binh Khanh Ward in Long Xuyen City.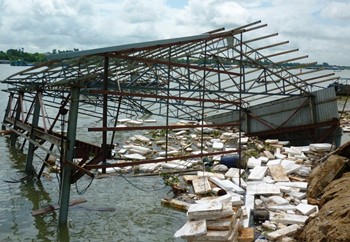 An Giang Province authorities warn of further landslide along the Hau River Bank (Photo: nld)
Vo Duy Cuong, chairman of the People's Committee of Binh Khanh Ward, said that visible cracks have surfaced along the foundation of a nearby house and an office building of the Binh Thoi 1 residential area.
Meanwhile the 40 metre long cracks near the collapsed river bank have broadened by a further three metres inland.
All households living in and around the landslide area have been evacuated, and surveys have been made of river eddies so as to harness them in the next few days.
On the same day, the provincial Department of Agriculture and Rural Development worked with affected victims of the landslide on an evacuation assistance policy.
As per the policy, each household losing property in the landslide will receive VND20 million (US$952). However, most of them have expressed concern over their new accommodation.
The People's Committee in Long Xuyen City said that 97 households evacuated from the landslide area would be resettled in a new residential area in the ward.
More than 200 others living in vulnerable landslide areas will also be relocated to the planned residential area in Binh Duc Ward. The residential project has completed all related paper work, but faces capital shortage.
The residential area in Binh Duc Ward will be built on 10 hectares at a cost of VND83 billion (US$4 million). The province plans to advance the fund from its budget for site clearance so that the project can kick off at the earliest.
Meanwhile, households waiting for resettlement homes are temporarily living in school buildings or at relatives' homes.
Related articles:
More houses threatened by landslide along Hau River
No casualties in severe landslide in An Giang Province