A 14-year-old boy living in Quang Nam province's suburban district of Thang Binh found an ancient bronze bell while collecting waste in his garden yesterday.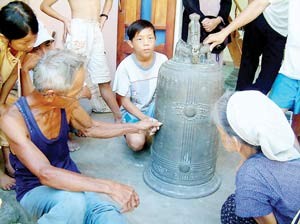 The boy and the ancient bronze bell he discovers.

The bell is 0.94 meter tall and has a diameter of 0.45 meter and a perimeter of 1.13 meters. The 100 Kg bell was buried 1.5 meters underground, the body of which is engraved with numerous Chinese characters that are still relatively visible.

Yesterday, officials from the Quang Nam Museum and Quang Nam Department of Culture and Information came to the boy's house to inspect the bell and persuade his family to hand it over to the authorities for further research.