A man living in Quang Binh province's suburban district of Quang Ninh found a pot of over 20Kg of ancient coins from China's Tang Dynasty while collecting waste on a field yesterday.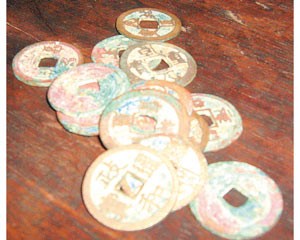 Ancient bronze coins found in Quang Binh province

These ancient coins are made from bronze, one side blank and the other engraved with 4 Chinese characters which are still clearly visible. All the coins were kept in a 40 cm high glazed terra-cotta pot which lay 0.5 meters under ground.

According to Mr. Tran Anh Tuan, Manager of the Quang Binh Museum, the coins were made in the beginning of the Tang Dynasty and are very valuable. They used to be circulated in China in the eighth and ninth centuries, the Tang period (618-907).

The coins were found in Quang Binh suburban district because during the prosperous Tang Dynasty, this type of currency was used in trading between Viet Nam and China, he added.

Mr. Dung, the person who discovered the treasure sold most of the coins at VND 200,000/Kg (approximately US$12). The rest were given to local people.