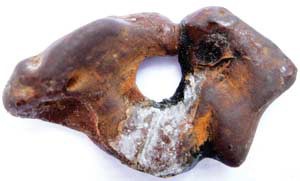 The ancient earring was found on May 9 in Ha Tinh Province. (Photo: SGGP)

A man in Ha Tinh Province accidentally found an ancient earring on May 9 when he was digging sand.
He also found many pieces of ancient terracotta, with their patterns still clearly visible.
Archaeologists have identified the period of the earring, suggesting it belongs to the Bronze Age Dong Son culture.
The finds are currently kept at the man's house.
The Dong Son culture is a Bronze Age culture including all of Southeast Asia and into the Indo-Malaya Archipelago from about 1,000 to 1 BC. Centered on the Red River Valley of Vietnam, the Dong Son were sophisticated agriculturalists, raising rice and buffalo. Dong Son probably arose from local Neolithic cultures, such as Phung Nguyen and Dong Dau phases. Dong Son is identified with the Van Lang ruling dynasty, the first ruling dynasty of Vietnam.