The Government decided yesterday to mark the anniversary of King Hung's death (gio to Hung Vuong) by making it a paid public holiday for the country's 13 million workers. The holiday will fall on the 10th day of the third lunar month, starting this year.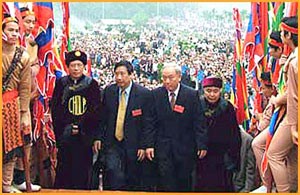 Leaders of the Government and Party at an anniversary of King Hung's death
An official with the Ministry of Labor, Invalids and Social Affairs said Viet Nam currently has only eight vacation days per year, the lowest number when ranked against other countries in the region which allow 11 to 17.

He added that in Viet Nam, several foreign invested enterprises allow their workers to take as many as 18 days off per year, so allowing Vietnamese workers to take another day off work fits with current trends and will be welcomed by workers.

Besides, he said, the holiday will help extend traditional education, strengthen national unity, enhance the nation's culture and develop tourism.