According to an agreement between Viet Nam and the Republic of Korea (RoK), Viet Nam will annually send about 15,000 qualified laborers aged 19-39 to RoK to work.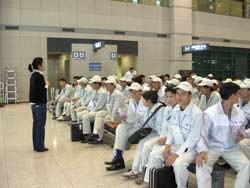 Vietnamese workers at Inchon International Airport in RoK.
Those workers must pass a Korean language exam, have no previous convictions and offences, and have never been expelled from RoK.

Vietnamese workers who have returned home on time after finishing their working contracts in RoK can return to work in RoK if their ex-bosses want to employ them.

The agreement was signed by Minister of Labor, War Invalids and Social Affairs Nguyen Thi Hang and Korean Labor Minister Lee Sang Soo in the Republic of Korea on July 24.