An angler from a suburban district of Ho Chi Minh City caught a giant dead fish in the Sai Gon River on Wednesday.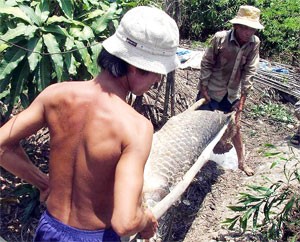 The locals bury the dead fish at Tran Van Han's house

Tran Van Han from the Binh Khanh ward of District 2 said that the fish, which died around one or two days ago, weighed around 60kg and was 1.75m long.

Several locals have previously caught similar large fish, with gray scales a black/dark red tail, approximately 1.6m in length and weighing around 100kg.

Mr. Tran Van Son, head of the HCMC Bureau of Fisheries Resource Protection, told reporters that the dead fish is a South American tropical freshwater fish often found in the Amazon River, called Arapaima Gigas.

They buried the dead fish at Tran Van Han's house soon after.