At a press conference held in Ha Noi yesterday to announce the creation of a new Anti-Corruption Central Steering Committee Office, Deputy Prime Minister Truong Vinh Trong, stated that the Communist Party of Viet Nam is determined to fight corruption in order to provide clean, stable government and ensure the country's continued socio-economic development.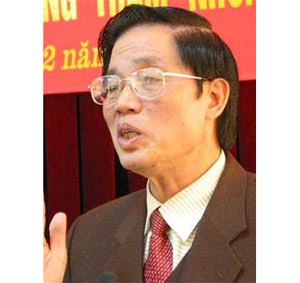 Mr Vu Tien Chien, head of the Anti-Corruption Central Steering Committee Office
Deputy PM Trong, who acts as Vice Chairman of the committee, then went on to outline the office's organization, authority and responsibilities.
 
Mr Vu Tien Chien, who will head the new office, said their first priority over the next couple of months is to train and strengthen officials and staff at the provincial and municipal level. The Committee will also attempt to expedite current anti-corruption cases as well as get involved in a process of improving policies and regulations.
 
According to Mr. Trong, Prime Minister Nguyen Tan Dung, who is acting as chairman of the new anti-corruption committee, said press agencies have made positive contributions in the fight against corruption.
 
Their timely reports on the investigation and handling of corruption cases have helped raise public confidence and support with regard to the State's determination to combat corruption, he stressed.
 
He added, however, that in the past, some press information has inaccurately portrayed the scale of some corruption cases and the level of damage caused by them. Therefore, he said, press agencies should be more objective and accurate in their reports.
 
The Deputy PM, along with other authorities, also answered journalists' queries concerning the investigation and prosecution of current, high profile cases that have captured the public's interest.
 
In particular, the misappropriation of state funds for infrastructure projects by Ministry of Transport officials in Project Management Unit 18, the public property case involving Nguyen Duc Chi in Khanh Hoa Province, the illegal allocation of public land in Do Son, Hai Phong City, the installation of fake electricity counter - meters by the Ho Chi Minh City electricity company, and the bribery scandal in Viet Nam Oil and Gas Corporation.