The Ministry of Information and Communications together with the Health Ministry launched a writing competition to combat smoking on May 31.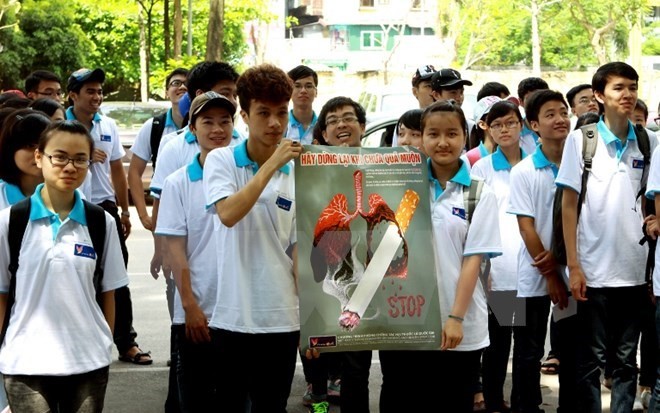 Students take part in an anti-smoking event. (Photo: VNA)
Professional and non-professional journalists nationwide are eligible to enter. Entries will focus on tobacco-related harms, preventative measures, State policies or WHO's plain-packaging campaign.
The competition is open for submissions until October 1. Nine stories will be awarded, with one overall winner and two second place prizes.
Further information can be found on www.mic.gov.vn
Deputy Minister of Information and Communications Nguyen Minh Hong, who is also head of the organising board, said a similar competition held last year drew 560 high quality submissions.
Hong hoped the contest would attract more entries this year.
The contest is among activities to mark World No Tobacco Day (May 31), an annual World Health Organisation (WHO) event to inform people of the dangers of smoking and the tobacco industry.
This year, the WHO is calling on countries to use plain packaging for tobacco products, with restricted use of logos, colours, brand images or promotional information.
Previously, in response to the initiative, Vietnam launched a national tobacco-free week from May 25 to 31.