The Fund in Support of Agent Orange Victims now has 62 chapters in 64 cities and provinces across the country, the Vietnam Red Cross (VRC) reported.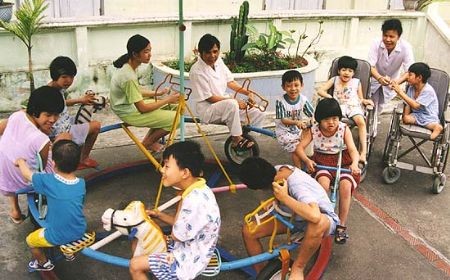 AO victims-children play at Thanh Xuan Peace Village, Ha Noi
VRC President Tran Ngoc Tang told a conference in Hanoi on June 4 that over the past 10 years the fund has raised over VND 350 billion for hundreds of thousands of victims.
The VRA says this has helped almost 87,000 target families with start-up investment for animal husbandry, production and family-sized businesses, and has generated jobs for more than 150,000 people.
Additionally, the fund has helped build new houses for 3,000 people, expanded safe water supply to over 223,000 others, and provided wheelchairs for almost 10,000 physically disabled. Free medical check-ups and treatment have also been provided to more than 175,000 patients.
The VRC plans to raise at least VND 10 billion for the central fund annually and at least VND 1 billion for provincial funds, its president said