Some 15 foreign ambassadors and enterprises have registered for the upcoming Cultural Day for Peace to welcome the Asia-Pacific Economic Cooperation (APEC) Summit in Ha Noi.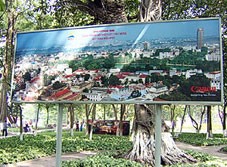 Ha Noi's Ly Thai To Flower Garden will host the APEC Cultural Day for Peace in Nov 5 (Photo: Nhan Dan)    

The event is a sideline activity of the APEC Economic Leaders' Meeting and attracts over 5,000 participants.
Many outstanding enterprises of Viet Nam, joint-venture companies and Ha Noi-based big trade centers will take part in the day.
A dummy vehicle convoy with a slogan that reads "Welcome the Viet Nam 2006 APEC Economic Leaders' Meeting" and many posters to promote Vietnamese products on the threshold of WTO will appear on the streets of Ha Noi.