The Ministry of Education and Training, in collaboration with APEC partners, held an opening ceremony for the APEC Education and Training 2014 Exhibition under the theme "Sharing knowledge and skills development for a dynamic and integrated APEC".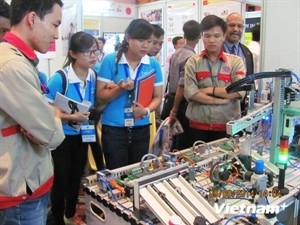 (Photo: VNA)
The exhibition runs from September 5 – 6, and introduces new models of vocational training and university teaching, as well as new teaching equipment and technology. Most importantly, it provides Vietnamese students the opportunity to explore leading educational models in Vietnam and other countries.
 
Furthermore, the exhibition is a platform for all parties involved to showcase the quality of their resources and their contributions to APEC's economy.
Some of APEC's members are at the forefront of education and training, such as the US, Japan, Russia and the Republic of Korea, and they will be exhibiting their excellent training models and technologies, attracting learners and expanding their cooperation with Vietnamese partners.
The exhibition is also supported by Vietnam's strategic partners, including Italy, the UK and Sweden.
Vietnam's Ministry of Education and Training, along with the Ministry of Labour, Invalids and Social Affairs, introduced visitors to the latest models of higher education in Vietnam, including the Vietnam-Germany University and the Vietnam-France University.
Deputy Minister of Education and Training Pham Manh Hung stressed the importance of contributing highly skilled human resources to the APEC economy, and hoped the exhibition would strengthen Vietnam's relations and cooperation with APEC member states and other countries in the field of education and vocational training.
APEC comprises 21 member economies, accounting for 54 percent of the world's GDP and 44 percent of global trade.