APEC needs to continue efforts to solve aftermaths from the global economic-financial crisis and put the world economy into a new stage of growth, said Vietnamese President Nguyen Minh Triet.
In his speech at the first closed-door session of the 18th APEC Summit in Yokohama, Japan, on Nov. 13, President Triet stressed that the Asia-Pacific region, particularly East Asia, continues to be a motive force for the global economic recovery and growth.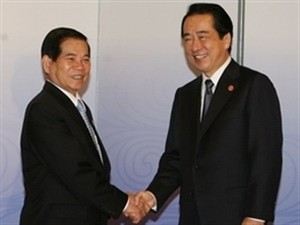 Japanese Prime Minister Naoto Kan (R)receives Vietnamese President Nguyen Minh Triet in Yokohama Nov. 13, 2010 (Photo: Vietnam News Agency)
He pointed out increasing cooperation and joint efforts of the international community as an urgent demand.
According to the Vietnamese President, in the new growth strategy, economic development needs to be associated with social development and environmental protection, focusing on the human.
He urged APEC to boost cooperation to narrow the development gap among members through economics-trade-investment connectivity, technology transfer, human resource training, infrastructure development and apparatus reform, linking the new growth strategy to the implementation of millennium development goals (MDGs) and cooperation programmes of members at sub-regional and regional levels.
As Chair of ASEAN 2010, President Triet highlighted ASEAN achievements and contributions to promoting sustainable growth.
At the first closed-door session, leaders from 21 Pacific Rim economies agreed to join hands in building the "APEC growth strategy" and support to increase the global joint effort and as well as the global economic coordinating role of the Group 20.
Earlier, the APEC leaders focused their discussions on economic development of the world and the region, cooperation in policies among APEC member economies at the opening of the 18 th APEC Leaders' Meeting.
On the sidelines of the summit, President Triet met with Peruvian President Alan Garcia Perez and Canadian Prime Minister Stephen Harper. They discussed measures to promote bilateral ties, international and regional issues of common concern as well as how to increase cooperation between Vietnam and Peru, and Vietnam and Canada at international fora, including APEC.
Peruvian President Alan Garcia Perez and Canadian Prime Minister Stephen Harper spoke highly of strong growth and achievements Vietnam recorded in the implementation of MDGs, as well as the country's success in its capacity as Chair of ASEAN 2010.
The Peruvian and Canadian leaders stressed Vietnam's international position and agreed to deepen cooperation and partnership with Vietnam, particularly in economics, trade and investment.